Media Release
Ontario's Police Leaders Call on Federal Government to Work with Police & Community Organizations to Ensure a Coordinated & Consistent Approach to the Transfer of Military Sexual Investigations to Civilian Police Services
For Immediate Release: October 12, 2022
(Toronto, ON) – The Ontario Association of Chiefs of Police (OACP) is calling for the Government of Canada to establish a national working group to support a coordinated and consistent approach to the transfer of military sexual investigations to civilian police services.
In a comprehensive statement outlining the challenges and opportunities involved in ensuring an effective national and victims-focused approach to the transfer of military sexual investigations, Ontario's police leaders believe the Working Group could coordinate:
a clear framework to collect and share information at a federal, provincial, and municipal levels that supports an accurate depiction of the number of cases of military sexual offences being reported (and other trends),
the identification of prolific offenders within the CAF, and
the sharing of information to support investigations and the safety of victims/survivors (including the recording and monitoring of offenders on a sex offender registry, and any training that may be required to ensure victim-centred, trauma-informed investigations).
"Our police investigators are eager to work with our CAF and community partners to ensure justice for victims of sexual offences in the Canadian military," said Chief Nishan Duraiappah, OACP President. "We acknowledge the valuable work by the Honourable Louise Arbour in delivering the Report of the Independent External Comprehensive Review of the Department of National Defence and the Canadian Armed Forces and believe that a national working group is needed to ensure victim-centred, trauma-informed investigations that puts victims first."
Since the Minister of National Defence announced in November 2021 the federal government's intent to transfer sexual assault investigations to the civilian justice system, the OACP has consistently called on the federal government to work with police leaders across the country to develop a national framework to guide victim-centered, trauma-informed investigations.
"The statement released by the OACP clearly outlines the issues involved and provides a basis for the partnerships needed to effectively investigate military sexual offences." said Chief Duraiappah.
The Full Statement is Available here.
- 30 -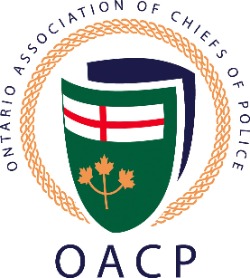 For more information, contact:
Joe Couto
Director of Government Relations &
Communications
T. (416) 919-9798
E. media@oacp.ca
Twitter:
@OACPOfficial
@OACPCertificate
Facebook:
http://facebook.com/OACPOfficial
Instagram: @OACPOfficial
YouTube:
http://youtube.com/OACPOfficial
The Ontario Association of Chiefs of Police is the voice of Ontario's Police Leaders
Members of the
Ontario Association of Chiefs of Police
Serve their communities
As the senior police leaders in municipal, regional, provincial
National, and First Nations
police services across Ontario