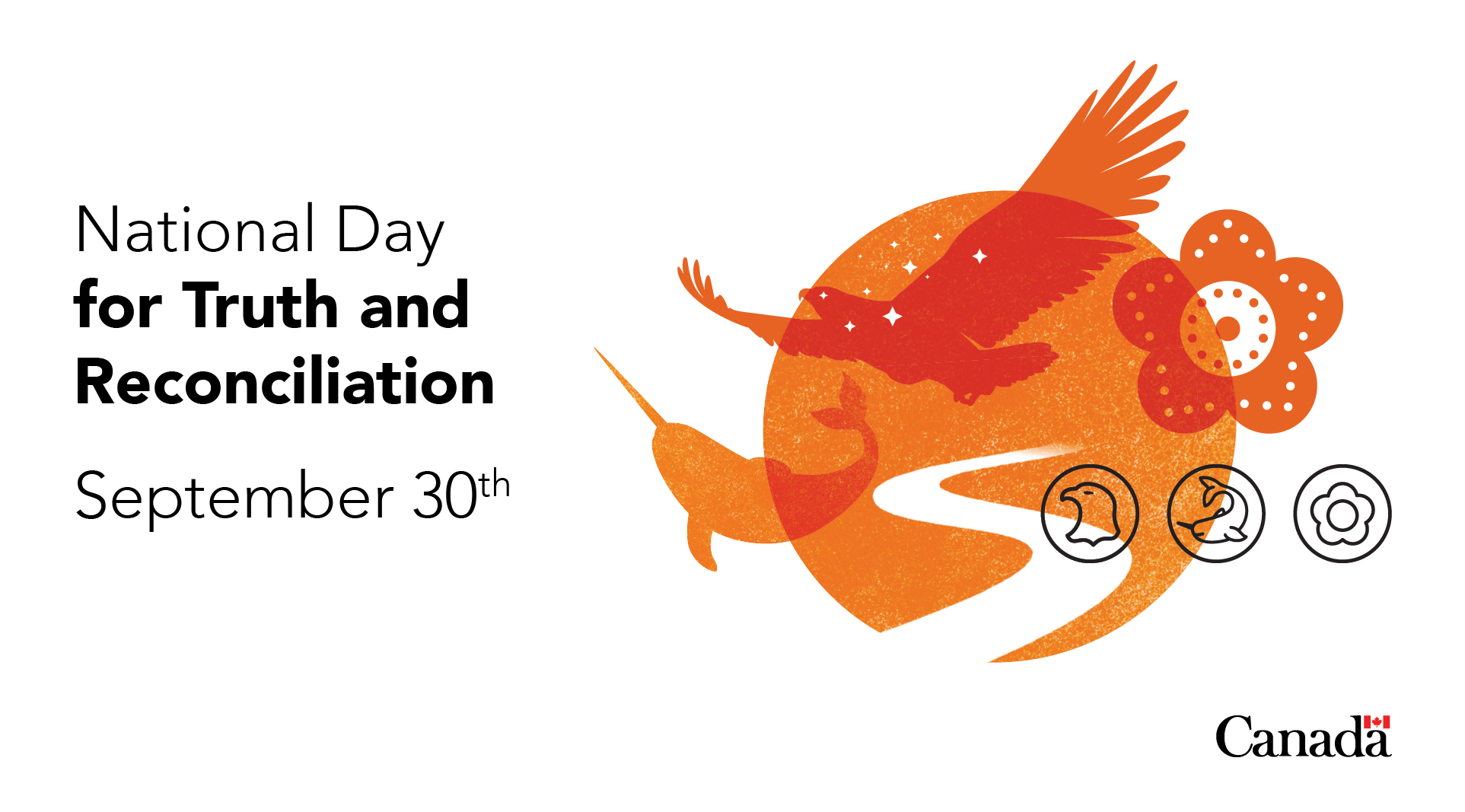 September 30, 2021 marks the First National Day for Truth and Reconciliation. The day honours the lost children and Survivors of residential schools, their families and communities. More information…
The National Centre for Truth and Reconciliation will mark Orange Shirt Day and the first statutory National Day for Truth and Reconciliation with a live broadcast on the CBC, Radio-Canada and APTN at 8 p.m. local time (9 p.m. AT, 9:30 p.m. NT).
Orange Shirt Day
Orange Shirt Day, September 30, is an Indigenous-led grassroots commemorative day that honours the children who survived Indian Residential Schools and remembers those who did not. This day relates to the experience of Phyllis Webstad, a Northern Secwpemc (Shuswap) from the Stswecem'c Xgat'tem First Nation, on her first day of school, where she arrived dressed in a new orange shirt, which was taken from her. It is now a symbol of the stripping away of culture, freedom and self-esteem experienced by Indigenous children over generations. More information...
Truth and Reconciliation Commission Reports
The Truth and Reconciliation Commission of Canada (TRC) was officially launched in 2008 as part of the Indian Residential Schools Settlement Agreement (IRSSA). Intended to be a process that would guide Canadians through the difficult discovery of the facts behind the residential school system, the TRC was also meant to lay the foundation for lasting reconciliation across Canada. More information...
Every Child Matters. Support Is Available
A national Indian Residential School Crisis Line has been set up to provide support for former students and those affected. People can access emotional and crisis referral services by calling the 24-hour national crisis line: 1-866-925-4419.
Indigenous peoples across Canada can also go to The Hope for Wellness Help Line 24 hours a day, 7 days a week for counselling and crisis intervention.
Call the toll-free Help Line at 1-855-242-3310 or connect to the online chat.