Posted on Friday, April 30, 2021 11:14 AM
This year, Emergency Preparedness (EP) Week takes place between May 2 and 8. Given the current environment and focused efforts to stop the spread of COVID-19, the week is being promoted online, using the official hashtags #EPWeek2021 #SemainedelaSC2021. Online public education resources are available as well as the new Government of Canada EP Week resources.
The OACP encourages you to follow @OntarioWarnings and @ONsafety on Twitter for information throughout the week.
Posted on Friday, April 30, 2021 11:02 AM
Our partners at the Cambridge Centre for Evidence-based Policing (CCEBP) have produced new research which identifies a way of pin-pointing violent crime with a lot more data than has been shown as unused so far.
The majority of violent incidents recorded by ambulance and emergency services are not reported to the police. As this article, which examined data from West Midlands, U.K., reveals, adding medical data could increase the number of identified violent offences by 15 to 20% to the...
Posted on Friday, April 16, 2021 08:20 PM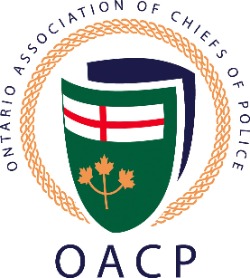 Statement by the Ontario Association of Chiefs of Police
on
Ontario's New Enforcement Measures Regarding the COVID-19 Stay-at-Home Orders
Ontario's police leaders know that Ontarians expect their police officers and all police personnel to continue to play an important role in combatting the challenges posed by COVID-19. The current third wave of the pandemic poses an extraordinary threat to public health and police officers will do their part in...
Posted on Friday, April 16, 2021 01:02 PM
The Ontario Association of Chiefs of Police (OACP) has endorsed Bill 274, Intimate Partner Violence Disclosure Act, 2021, a Private Members Bill proposed by MPP Jennie Stevens (St. Catharines) also known as Clare's Law. In Canada, intimate partner violence accounts for one-quarter of all police-reported violent crimes.
Equally concerning is the fact that, on average, 70 victims are murdered each year by their intimate partners. These victims are usually women and it is estimated that...
Posted on Friday, April 16, 2021 12:58 PM
Congratulations to the Canadian Association of Chiefs of Police (CACP) on the selection of its new Executive Director, Ms. Aviva Rotenberg. She will assume the leadership of our national association on Monday, May 3, 2021.
Ms. Rotenberg comes to the CACP from the Canadian Bar Association (CBA) where she devoted 15 years of her career in supporting the goals and objectives of the association as the Director of Strategic Initiatives and as a past Director of Professional Development.